The Richmond Football Club is committed to creating an inclusive and accessible match day experience that welcome a diverse Tiger Army.

We want to ensure game days are accessible for everyone, below are links and information to help your day (or a partner's, friends, family member's day) be the best it can be.
The below information is currently specific to the Melbourne Cricket Ground (MCG).
Sensory Friendly Space
A sensory-friendly space, presented by the MCC Foundation, is now open at the MCG and offers visitors some quiet and calm on event day no matter the size of the crowd. Located within the Australian Sports Museum on Level 1 (inside Gate 3, behind bay M51) is a space for all ages who have sensory sensitivities.
Want a visual story to prep you prior to your visit? Easy done! click here.
For more information please click here.
The Hidden Disabilities Sunflower
The Hidden Disabilities Sunflower was established in 2016, and it exists to help people living with disabilities that are not immediately obvious.

Wearing the Hidden Disabilities Sunflower discreetly indicates to people around the wearer including staff, colleagues and health professionals that they need additional support, help or a little more time.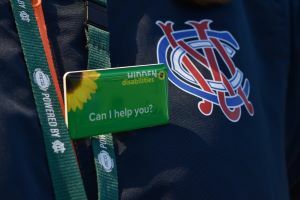 The MCG encourages you to wear your Sunflower every time you visit the MCG. Event day supervisors and selected staff members have been trained to recognise the Sunflower and provide you with the appropriate assistance during your visit. Some staff may also choose to wear a Sunflower supporter pin so if you feel comfortable, you can also approach these staff members with any questions you may have and they will be happy to help.
For more information please click here.
The 'G Train Mobility Shuttle Service
The service is free and accessible to patrons with mobility challenges and in 2023, the G-Train will also feature vehicles with wheelchair-friendly access.

Pre-booking is not required; simply wait at a designated pick up point for the next available buggy.
The service has pick up points from the following locations:
> Richmond Station
> Jolimont Station
> Accessible Parking Area

For more information, click here.

Accessible Facilities
Further information about accessibility requirements including seating, parking and toilets can be found here.

AUSLAN interpreter
We (alongside the MCG) introduced live captioning and an AUSLAN interpreter at home games. These initiatives are to help those who may find it difficult to hear the match day hosts.

Did you notice this at games in season 2023? We'd love your feedback! Click here to let us know what you think.

Melbourne Cricket Ground Accessibility Map
Click here to view it larger.